Emely Moreno
Senior Investment Analyst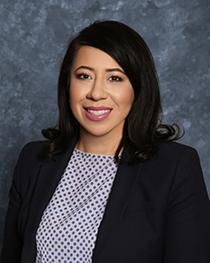 Ms. Moreno is a Senior Investment Analyst with the San Bernardino County Employees' Retirement Association (SBCERA). As a member of the investment team, she is responsible for assisting the team with investment operations and the document integrity of investment contracts, and related investment documents, an initiative she actively spearheaded for completeness. In addition, Ms. Moreno participates in contract discussions and meets with potential investment managers.
Prior to joining SBCERA in November 2011, Ms. Moreno was an assistant to the investment team at Orange County Employees' Retirement System (OCERS) where she was responsible for coordinating the monthly Investment Committee meetings, and assisted with day to day investment operations, including back office activity with bank and custodian relationships. Additionally, she was responsible for the oversight and monitoring of reporting compliance.
Ms. Moreno earned a Bachelor of Science in Cell and Molecular Biology from California State University, Northridge and awarded recognition on the Dean's List.